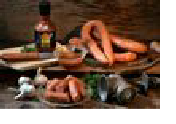 The Buck Stop now has two locations to better serve your needs in north central and northwestern Nebraska. Besides our convenient Valentine location, we have opened our new plant in Crawford, NE. Our new location will now provide convenient service for northwestern Nebraska and southwestern South Dakota.
We offer full service game processing for deer, elk, antelope, buffalo and game birds. We offer standard processing with your selections of cuts, wrapping and freezing. We also offer a wide selection of custom processing of your game from our selection of fresh and smoked sausages as well as jerky and snack sticks. Visit our products page for a selection of offerings, descriptions and pricing.
At The Buck Stop we know your time is valuable and if you are from out of town on your hunt, we will do our best to process your game to be ready for your trip home.
Our mission is to provide you the highest quality processing and selection of products that we can. To ensure you of this goal requires proper care and handling of your game in the field, so please visit our Care of Game page for game handling tips.
Also be sure to visit our Trophy Page and enjoy some of the photos of game harvested in the area. Be sure to ask about adding your Trophy photo to our page.